De Juice Booster is de kleinste en veiligste mobiele 22 kW oplaadpunt (ICCPD). Compatibel met alle elektrische voertuigen met een type 1- of type 2-oplaadcontact. De Juice Booster laadt enkel- naar driefasige stroombronnen, met laadstroomniveaus van 1,4 tot 22 kW, met stroom van maximaal 32 ampère. Onder ideale omstandigheden bent u in 3 tot 4 uur weer volledig opgeladen.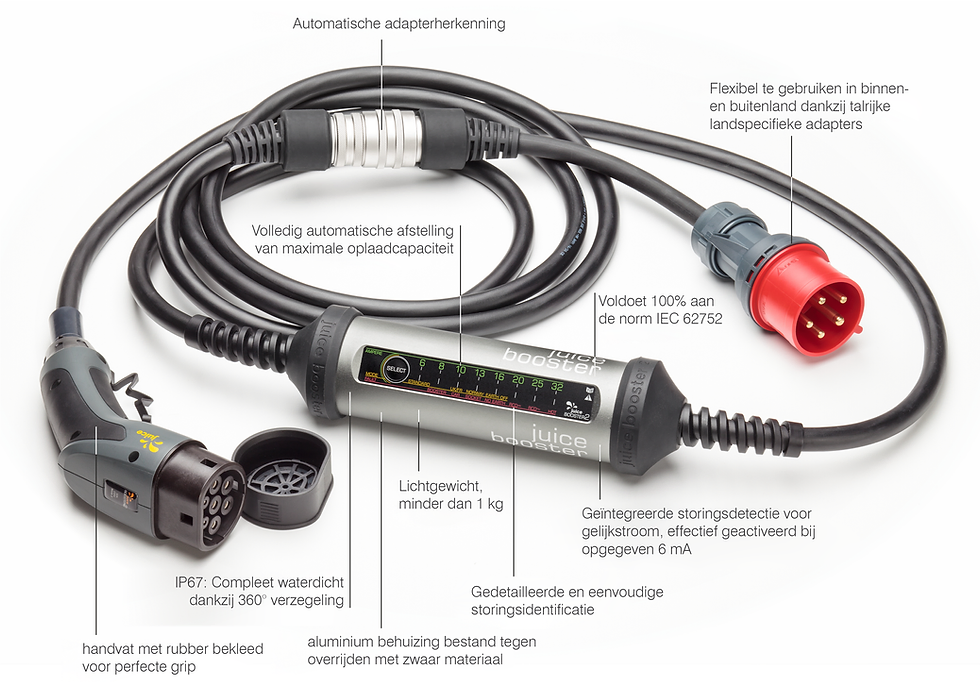 De Juice Booster gebruikt IP67-waterbestendig, bestand tegen overrijden, geschikt voor gebruik bij -30 tot +50 graden, maximale veiligheid volgens de laatste normen.
De gele LED toont de oplaadmodus. Deze geeft de standaardmodus aan. U kunt de modus wijzigen door de knop Select (Selecteren) langer ingedrukt te houden
De rode Leds geven storingen aan. Deze geeft een 'RCD'-fout aan.

Het oranje lampje Aan geeft aan dat er elektriciteit stroomt en de elektrische auto wordt opgeladen.
De groene LED geeft het laadvermogen aan, dat automatisch wordt gedetecteerd, zoals 32 ampère in dit geval U kunt dit vermogen (ampères) verlagen met de knop Select (Selecteren).
JUICE CONNECTOR
Wereldwijd probleemloos opladen: intelligent elektriciteitsbeheer dankzij automatische adapterherkenning. Gedaan met vermoeiende berekeningen of handmatig aanpassen van de stroom.
U kunt deze desgewenst nog steeds handmatig minimaliseren, met de knop Select (Selecteren) op de JUICE BOOSTER 2.
Om de Juice Booster 2 (pro) te kopen kunt u op deze link klikken.