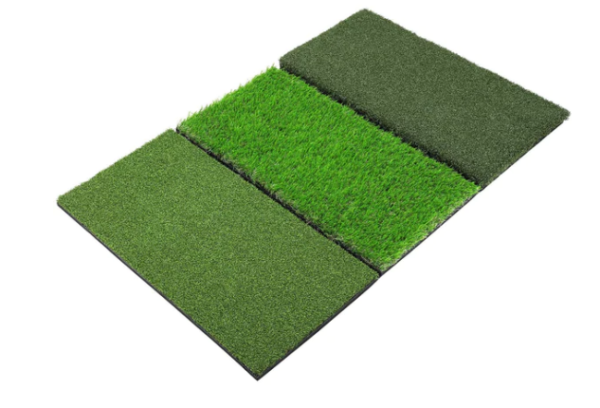 €99,00
TRI-TURF GOLF HITTING MAT
Introduction: As a golfer, constantly improving your game and preparing for different course conditions is crucial. The 1.5m x 1m Practice Mat with Various Surfaces offers the perfect training solution to refine your skills and build confidence in various lies. With three different surfaces – Fairway turf, Rough turf, and Tee turf – this practice mat allows you to simulate realistic shots and elevate your game.

Different surfaces for a realistic playing experience: The practice mat features three distinct surfaces – Fairway turf, Rough turf, and Tee turf. This enables you to practice under different conditions you encounter on the golf course. The Fairway turf provides a smooth, even surface for shots from the fairway. The Rough turf simulates the thicker grass of the rough, allowing you to work on your shot technique and consistency. The Tee turf lets you practice from an elevated tee, enhancing your driving skills.
Comfortable and realistic feel: Each section of the practice mat is made of high-quality grass-like material that feels comfortable during swings and provides a realistic sensation. Whether you're practicing with your driver, irons, or putts, each third of the mat offers the right texture and cushioning for an authentic playing experience. This enables you to improve your technique and increase confidence in your shots.
Balanced size and weight: The dimensions and weight of the practice mat are carefully balanced, providing ample hitting surface without becoming too heavy or unwieldy. With a size of 1.5m x 1m, you have enough space to make full swings and practice various shots. Additionally, the mat is also portable, allowing for easy transportation and storage.

Conclusion: The 1.5m x 1m Practice Mat with Various Surfaces offers golfers the opportunity to practice in realistic conditions and elevate their game. With the choice of Fairway turf, Rough turf, and Tee turf, you can work on different aspects of your game and prepare for diverse situations on the golf course. The comfortable feel and well-balanced size and weight make this practice mat an excellent choice for golfers of all levels. Invest in this versatile practice mat and watch your golf skills improve, regardless of the weather or time constraints.
Dimensions: 64cm x 41 cm
Practice from 3 Different Lies At Home, Backyard, Garage, Driving Range or Outdoor
Please Note –Dear NON-EU customer. Please note that you are buying tax-free on our website. You will have to pay your import taxes and customs duties when the package arrives in your country of residence.