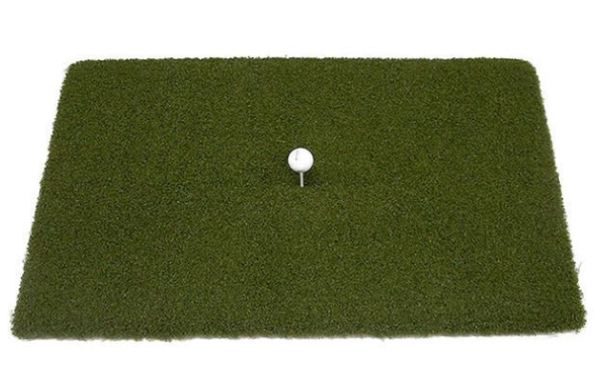 €219,99
Thick golf mat
Introduction: When it comes to improving your golf game, having a reliable hitting mat is essential. The Thick Golf Mat is a high-quality nylon mat designed to provide a realistic practice experience. With its versatility and durability, this mat is perfect for both indoor and outdoor use, allowing you to fine-tune your swing and elevate your iron and wedge shots.
Generous Size and Tee Compatibility: Measuring 60 cm wide and 90 cm long, the Thick Golf Mat offers ample space for comfortable practice sessions. It is designed to hold a standard tee, allowing you to practice your drives and achieve consistent ball contact. Whether you're using irons, wedges, or drivers, this mat provides a sturdy surface for a range of shots.
Suitable for Iron and Wedge Practice: The Thick Tee Golf Mat is particularly beneficial for practicing iron and wedge shots, especially when simulating shots from the rough or second cut. Its thickness and texture closely resemble the conditions encountered on the course, enabling you to improve your technique and ball striking from challenging lies. With regular use, you can gain confidence and accuracy with your short game.
Exceptional Durability and Portability: Constructed from high-quality materials, the Thick Golf Mat is built to withstand heavy use and provide long-lasting performance. Whether you're practicing indoors or outdoors, the mat maintains its integrity and durability. Additionally, its portable design allows for easy storage and transportation. The mat can be rolled up, making it convenient to take with you to the driving range, practice facility, or even during travel.
Versatile Usage: The Thick Golf Mat's versatility extends beyond golf practice. It can also be used for other purposes, such as chipping practice for other sports like baseball or softball. Its durable construction and reliable performance make it an excellent investment for athletes looking to improve their overall ball-striking skills.
Conclusion: The Thick Golf Mat is a must-have accessory for golfers seeking to improve their game. With its generous size, tee compatibility, and suitability for iron and wedge practice, this mat provides a realistic experience and helps you develop consistency in your shots. Its exceptional durability, portability, and versatility make it a worthwhile investment for both indoor and outdoor practice. Take your game to the next level with the Thick Golf Mat and enjoy the convenience of practicing anytime, anywhere.
Please Note –Dear NON-EU customer. Please note that you are buying tax-free on our website. You will have to pay your import taxes and customs duties when the package arrives in your country of resid