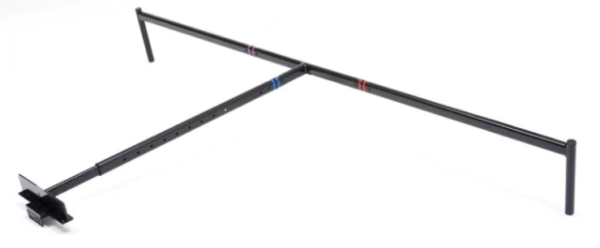 €695,98
The Projector Mount Kit is specifically designed for use with our Simulator Series 8 net. This kit makes it easy to attach your projector to the rear of the Simulator Series frame without the need for ceilings, walls, or other structures in your home or facility.
The Projector Mount Kit can be assembled in less than 15 minutes using our Quick Color Connect System. It is designed for use with an Ultra Short Throw Projector and comes with a Premier Universal Projector Mount. The kit is made of powder-coated steel and weighs approximately 16 lbs.
Please note: A projector, simulator software, and computer are not included with the Projector Mount Kit. You will need to purchase these items separately. Which projector do we recommend? Our top two choices are the Viewsonic – pjd6683ws (Ultra Short Throw Projector) and the Infocus Model # in118hd. The cost for these projectors on Amazon is approximately $750.00 – $900.00 USD. It's important to note that the Projector Mount Kit is only compatible with our Simulator Series and will not work with our Pro Series net. If you plan to use a projector with our Pro Series net, the projector mounting will need to be done on the ceiling or via a side throw projection from the ground.
In our Simulator Series video, we used a ViewSonic Ultra Short Throw Projector. The specific model is the ViewSonic Model #pjd6683ws with a 4:3 aspect ratio. Due to the squareness of our screen, we recommend using a 4:3 aspect ratio instead of 16:9. To test the exact size of the image that will appear on the Simulator Series screen with your specific projector model, you can utilize the manufacturer's projector distance calculator.
This calculator allows you to input the projector model, distance from the screen, aspect ratio, etc., providing you with the precise image size in advance.
Please Note –Dear NON-EU customer. Please note that you are buying tax-free on our website. You will have to pay your import taxes and customs duties when the package arrives in your country of resid
Description
Simulator Series Specifications
Frame Height: 8'10" (Rear Display Bar) * With Projector Mount Kit Installed Height Increases to 9 feet.
Frame Height 8'2″ (Front Horizontal Tubing)
Frame Width: 8′
Frame Depth: 3′ 6″
Unit Weight: 58 lbs. (With Projector Mount Kit 64 lbs.) With The Projector Mount Kit Accessory Added – Max. Extension of arm 5'9″ from screen / with arm compressed 4'2″ from screen
Max Projector Weight on Projector Mount Kit 12 lbs. T
he actual Simulator Series Screen is 100″ Tall x 87″ Wide (8'3″ x 7'2″). Bottom Left Corner to Upper Right Corner is – 131.5″ (10′ 9″)