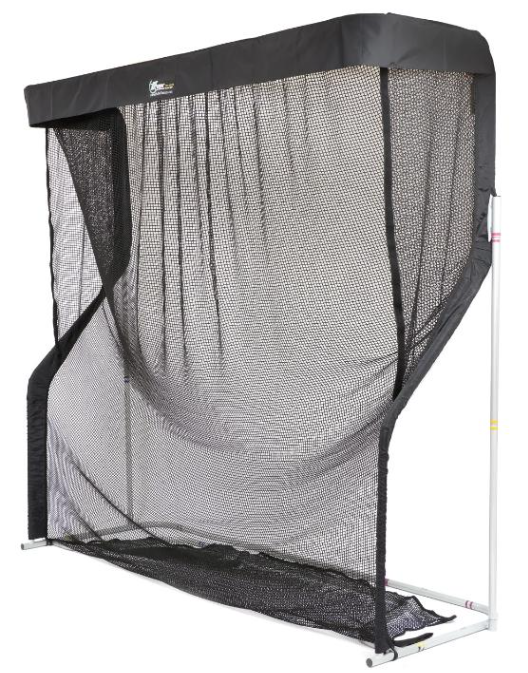 €1.837,61
The Pro Series XL is our largest Pro Series net.
We have increased the size of our standard Pro Series net to a whopping 3.05m wide x 2.9m tall, adding 0.6m in both width and height. The depth of the unit remains identical at 1.07m deep.
The XL provides terrific ball return, instant shot feedback and is designed for a variety of sports including – Golf, Soccer, Baseball, Softball, Lacrosse and Football.
The Pro Series XL has an additional 11 tubes added to the frame design (total number of tubes is now 25), along with a rectangular weighted base, providing the ultimate in performance and stability.
The XL also has sewn in "wings" similiar to our Extra Point Kicking Net, enhancing side protection for mis-hit (or kicked) balls. With the addition of the "wings", we have enhanced our Side Barrier design as well. Side Barriers now connect directly to the Velcro "wing" speeding up assembly and providing for the ultimate in safety. Side Barriers for the XL are sold separately as an accessory.
With the additional height and width of the XL, golfers can now hit clubs farther back allowing for longer flight distances, greater swing comfort and the ability to use any swing analysis tool (Trackman, Flightscope, Foresight, etc.) for the ultimate in shot accuracy.
The Pro Series XL weighs only 22.2 kg., assembles in under 15 min. utilizing our "Pushbutton Quick Color Connect System", and can easily be stored or transported in the provided duffle bag. Due to the size of the Pro Series XL, we recommend indoor use only. The large size of the net outdoors acts like a "sail", and can easily tip or blow the unit completely over.
Please Note –Dear NON-EU customer. Please note that you are buying tax-free on our website. You will have to pay your import taxes and customs duties when the package arrives in your country of resid