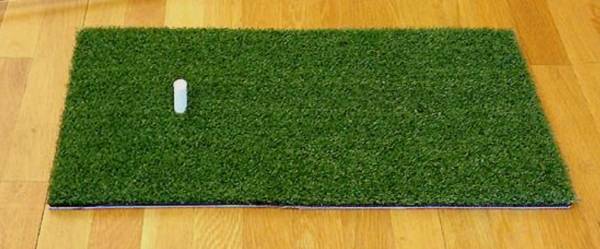 €34,19
Hitting mat 30×60
Introduction: To improve your golf skills, having a reliable hitting mat is essential. The 30cm x 60cm Hitting Mat is a high-quality nylon mat designed to provide a realistic practice experience. With its durability and versatility, this mat is perfect for both indoor and outdoor use, allowing you to fine-tune your swing and enhance your performance with both drivers and irons.
Premium Quality Construction: The 30cm x 60cm Hitting Mat is crafted from the same durable 119 gr. Nylon material as our Pro and Runner Turfs, ensuring its longevity and ability to withstand rigorous practice sessions. The mat is designed to handle the impact of your club, providing a consistent and reliable hitting surface.
Suitable for Drivers and Irons: Whether you're practicing with your driver or working on your iron shots, this hitting mat is suitable for both. Its size and design allow you to set up and practice with different clubs, improving your swing technique and ball-striking consistency. The mat's surface texture mimics real grass, offering a realistic feel and enhancing your overall practice experience.
Convenient Installation and Rubber Tee Included: The tee hole on the hitting mat is pre-drilled, making it easy to install a rubber tee for your driver shots. This convenient feature saves you time and effort, allowing you to focus more on your practice. Additionally, the hitting mat comes with one rubber tee included, ensuring you have everything you need to start practicing right away.
Versatile Usage and Portability: The 30cm x 60cm Hitting Mat is not limited to golf practice alone. Its durable construction and versatile nature make it suitable for other sports and activities as well. You can use it for practicing chipping and hitting drills for other sports like baseball or softball. The mat is also portable and easy to transport, making it convenient to take with you to the driving range or practice facility.
Conclusion: The 30cm x 60cm Hitting Mat is an excellent investment for golfers looking to improve their game. With its durable nylon construction, suitability for both drivers and irons, and convenient installation, this mat provides a reliable and realistic practice experience. Enhance your swing technique, improve your ball-striking consistency, and elevate your overall performance with this versatile hitting mat. Visit [website link] to get your 30cm x 60cm Hitting Mat and take your golf practice to the next level.
Please Note –Dear NON-EU customer. Please note that you are buying tax-free on our website. You will have to pay your import taxes and customs duties when the package arrives in your country of resid.