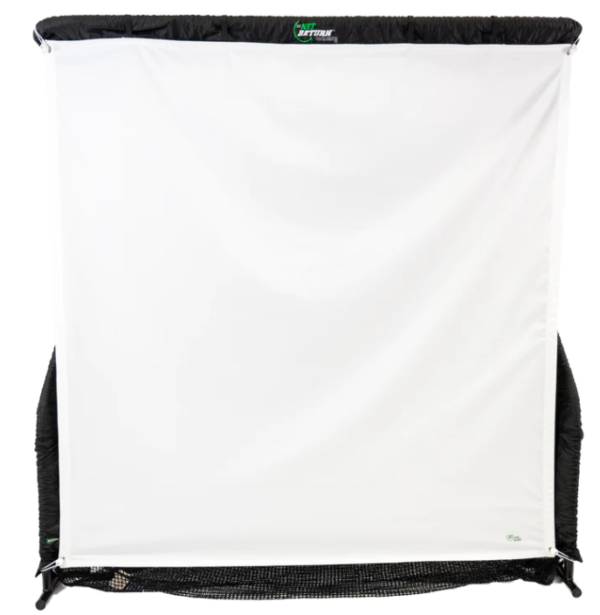 €366,92
The Simulator Screen is the ultimate Golf Accessory for your Net! It is designed for use with any Golf Simulator Software and Projector.
It easily converts your Net into aSimulator Screenin minutes! Velcro Tabs make installation a snap! Allowing you to easily switch between Simulator and Ball Return mode. Now play your favorite course anywhere, anytime with your Net.
To test the exact size of the picture that will show up on the Simulator Series screen with your projector model, consult the manufacturers projector distance calculator. This allows you to plug in the projector model you are using, distance from screen, aspect ratio, etc. providing you with an exact picture size ahead of time.
Please Note –
The Simulator Software, Projector, Turf and Net are not included in this purchase.
Simulator Screens are the one product that we do not accept returns on. The screen is made of white polyester fabric and can easily be smudged or be stained if handled improperly. Please consider this prior to purchase…
When the product arrives it will be folded in the box and have wrinkles and creases. Utilize an iron on a medium setting to remove any wrinkles.
Please Note –Dear NON-EU customer. Please note that you are buying tax-free on our website. You will have to pay your import taxes and customs duties when the package arrives in your country of residence.
Description
Available for the following nets
Home Series V2
Pro Series V2
Pro Series V2 Large 8
Pro Series V2 Large 9
Pro Series V2 Large 10
Screen Specifications:
Home Series V2:203cm High x 206cm Wide 290 cm Corner to Corner
Pro Series V2:210cm High x 239cm Wide 317cm Corner to Corner
Pro Series V2 Large 8:216cm Tall, 217cm Wide x 312cm Corner to Corner
Pro Series V2 Large 9:216cm Tall, 246cm Wide x 335cm Corner to Corner
Pro Series V2 Large 10:216cm Tall, 277cm" Wide x 358cm Corner to Corner