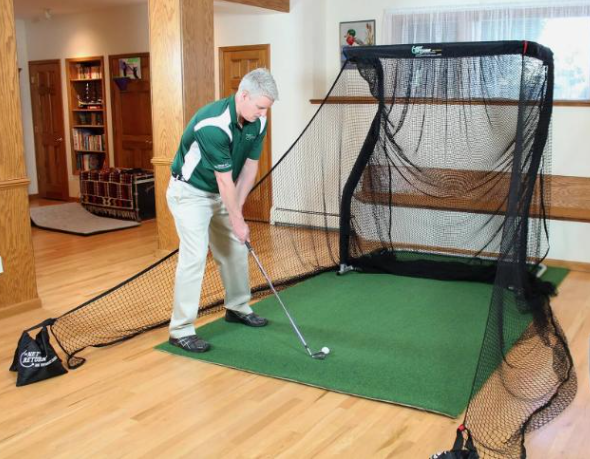 €976,35
A Net Return training net offers a golfer unparalleled performance, premium quality, rugged durability and is designed for years of use.
Each and every "Mini" Pro Series V2 training net we sell is handmade, individually inspected and tested.
Please Note – You will receive two shipments from us for your Mini Pro Package V2.
Box 1– Mini Pro Series V2 Net,
Box 2– Side Barriers + Sandbags
Box 3– Turf (Poly Wrapped)
Please Note –Dear NON-EU customer. Please note that you are buying tax-free on our website. You will have to pay your import taxes and customs duties when the package arrives in your country of resid
Description
The Mini Pro Package V2 Includes
Mini Pro Series Sport Net and Frame
Side Barriers (Pair)
Turf / Hitting Mat – Various sizes available
Two Rubber Tee's – 4.45cm and 5.72cm
Sandbags (Quantity 4)
Duffle Bag
The Mini Pro Package V2 Features
5 Min. Pushbutton "Quick Color Connect" Assembly (No Tools Required)
Pre-Sleeved Net – Easy on and off Lightweight,
Rugged, 3.81cm Tubular Aluminum Frame – Will Not Rust!
Commercial Grade, UV Treated Black, Polyester Netting
Large, Stainless Steel Push Buttons
Rugged Duffle Bag for Easy Transport and Storage (9.98kg)
Multi-Sport Use – Golf, Soccer, Baseball, Softball, Lacrosse