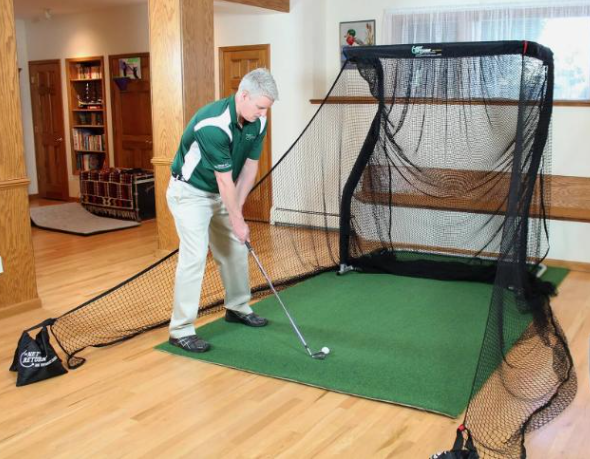 €976,35
The Net Return training net provides golfers with exceptional performance, premium quality, and rugged durability, promising years of reliable use.
Each "Mini" Pro Series V2 training net is meticulously handcrafted, undergoing thorough inspection and testing. This rigorous process ensures that every net meets our stringent quality standards, guaranteeing optimal performance and customer satisfaction.
Important Note: Your Mini Pro Package V2 will be shipped to you in two separate shipments:
Box 1: Contains the Mini Pro Series V2 Net. Box 2: Includes the Side Barriers and Sandbags. Box 3: Consists of Poly Wrapped Turf, providing an excellent hitting surface.
Experience the excellence of the Mini Pro Package V2 and elevate your golf training with a net designed to deliver unmatched performance and long-lasting durability.
Please Note –Dear NON-EU customer. Please note that you are buying tax-free on our website. You will have to pay your import taxes and customs duties when the package arrives in your country of resid
Description
Mini Pro Package V2
The Mini Pro Package V2, a comprehensive set designed to enhance your training experience. This package includes the following components:
Mini Pro Series Sport Net and Frame: The package features the Mini Pro Series Sport Net and Frame, specifically designed to provide a compact and efficient practice area. The pre-sleeved net allows for easy installation and removal, while the lightweight, rugged 3.81cm tubular aluminum frame ensures durability without the risk of rust.
Side Barriers (Pair): Enhance safety and containment during your practice sessions with the included pair of side barriers. These barriers help keep your shots within the designated area, promoting a controlled and focused training environment.
Turf/Hitting Mat: Various sizes of turf or hitting mats are available to complement your practice setup. These mats offer a realistic surface for hitting shots, enabling you to simulate the experience of playing on a golf course.
Rubber Tee's: The package includes two rubber tee's with different heights (4.45cm and 5.72cm), catering to different preferences and shot types during your practice sessions.
Sandbags: Four sandbags are provided to ensure stability and secure setup of the net and frame. These sandbags can be filled with sand and strategically placed to anchor the Mini Pro Series Sport Net firmly to the ground.
Duffle Bag: A rugged duffle bag is included for easy transportation and storage of the components. With a weight of 9.98kg, the bag is designed to conveniently carry all the necessary equipment.
The Mini Pro Package V2 offers the following features:
5-minute push-button "Quick Color Connect" assembly, requiring no tools for setup.
Commercial-grade, UV-treated black polyester netting for long-lasting performance.
Large stainless steel push buttons for easy and secure connection of the frame.
Multi-sport usability, making it suitable for golf, soccer, baseball, softball, and lacrosse.
Unlock the versatility and convenience of the Mini Pro Package V2, designed to elevate your training across various sports.