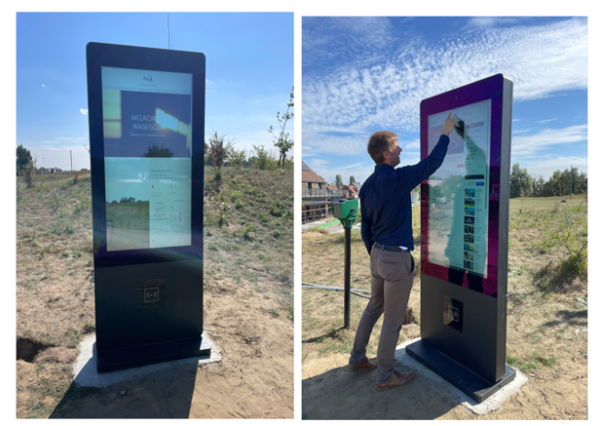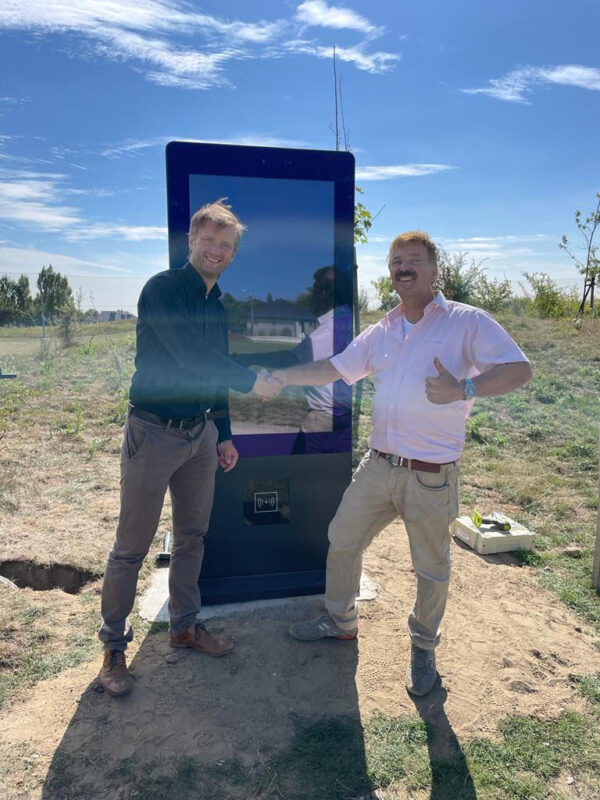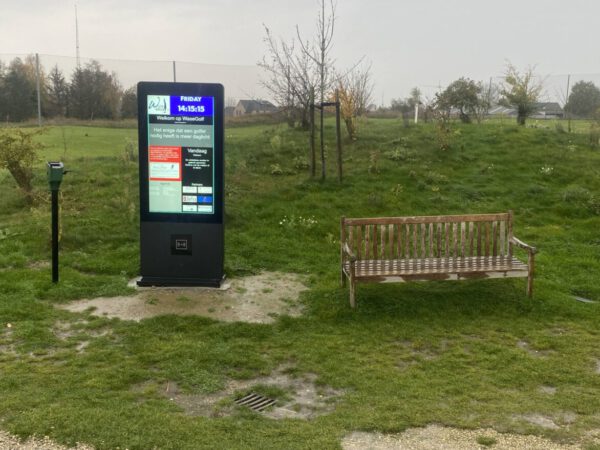 €7.000,00
kiosk met touch display, RFID en meerdere andere opties beschikbaar.
Wat is een Smart Kiosk?
Een Smart Kiosk is een interactieve computerterminal waar je informatie kan vinden, diensten kan verkrijgen of producten kan kopen zonder tussenkomst van een andere persoon. De Kiosk is te bedienen via een touchscreen.
Er zijn Kiosken voor indoor en outdoor gebruik. Het grootste verschil zit hierbij in de weersbestendigheid van het product; zoals waterdichtheid, de minimale en maximale temperatuur waarbij de Kiosk gebruikt kan worden en de helderheid van het scherm.
Je hebt geen kennis nodig van een computer om met een Smart Kiosk over weg te gaan. Je kan de instructies volgen die op het scherm komen.
Om de Smart Kiosk optimaal in te kunnen zetten dient er ook gebruik gemaakt te worden van speciaal ontworpen software, zodat de Kiosk heel gericht ingezet kan worden.
Description
Toepassingen van een Smart Kiosk?
Een Smart Kiosk kan op verschillende manieren worden ingezet. Dat maakt van zo'n Interactieve Kiosk een handig instrument voor bedrijven, winkels en openbare gebouwen.
Allereerst is het een uitstekend communicatiekanaal. Via slim ontworpen software kan je een Smart Kiosk gebruiken om mensen op een snelle en makkelijke manier informatie te geven, zonder tussenkomst van een andere persoon.
Daarnaast is een Smart Kiosk ook een handige tool om producten en diensten aan te bieden zonder dat er een medewerker in de buurt hoeft te zijn.
Aan een Kiosk kunnen verschillende inputs aangesloten worden, zoals bijvoorbeeld RFID technieken. Hierdoor kunnen gebruikers herkend worden door middel van een pas of QR code. Tot slot is de Smart Kiosk een ideale tool voor advertenties, waardoor het tevens een bron van inkomsten kan zijn voor bedrijven.
kiosk met touch display
beschikbaar in diverse maten tussen 32 en 84 inch
Windows 10 of Android besturingssysteem
—
Configuratie Outdoor Kiosk:
Beschikbare afmetingen: 32", 43", 55", 65", 75"
Touchpanel, Hoge Resolutie Camera, Microfoon, Luidsprekers, Buzzers, etc
Koelsysteem, LED verlichting en Lichtbox
Ondersteund door Windows of Android
IP55 of hoger
Configuratie Indoor Kiosk:
Beschikbare afmetingen: 18,5", 21", 32", 43", 55", 65", 75"
Touchpanel, Hoge Resolutie Camera, Microfoon, Luidsprekers, Buzzers, etc
Extra opties mogelijk zoals Kaartlezer, Barcode scanner, Printer
Ondersteund door Windows of Android
Outdoor Kiosk
Technical Parameters for LCD Display
Panel size
43″
Mode
16 : 9
Maximum resolution
1920 x 1080 FHD
Pixel pitch (mm)
0.121 (H) x 0.364 (V)
Brightness (nits)
1500 nits
Contrast
4000 : 1
Visual angle
178° / 178°
Response time
6ms
Operating life (hrs)
> 50,000
Touch screen
Nanotouch foil
PC solution & Windows – Specifications
CPU
INTEL Celeron processor 3865u (1.8GHz)
Chipset
INTEL ITE8784/8785/8786E
RAM
4GB
Storage
64G SSD
Graphics
HD Graphics 610
Audio
Realtek ALC662
Network Interface Card
1 or 2 x Realtek 8111E
3G/4G Module
ME909s LTE mini PCIe
COM
2×232 Interface (could upgrade to Multi-interface)
USB
USB2.0x2, USB3.0x2
Harddisk
2.5 inch 64 GB SSD
Speakers
2 built-in high quality stereo speakers (5W)
Operating system
Pre-Installed OS Windows 10
Working Environment
Temperature
Working temperature
-20°C – 50°C
Storage temperature
-30°C – 60°C
Protection level
IP55
Net weight
100kg
Cooling System
Fan Unit
EBM
Output Power
AC 100W
Noise(dBA)
55dB
Power Supply
Voltage
AC 100-240V (50/60 Hz)
Power consumption
Typical 880 Watt
–
beschikbaar vanaf 7.000 euro (afhankelijk van opties)
bel of mail voor opties