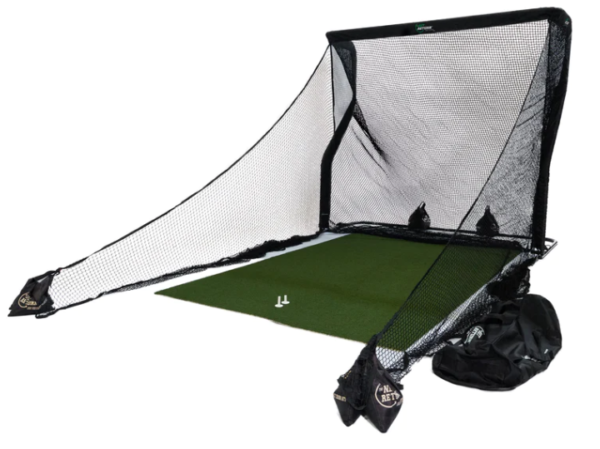 €1.015,66
Experience the exceptional features of the Net Return Home Series V2, a remarkable golf net that stands out as one of the few in the world with automatic ball return functionality.
Practice Golf Net: Our 7′ x 7′ Home Series V2 multi-sport golf net is specifically designed for convenient golf practice at home, in your yard, or even in the garage. Its portable design enables you to effortlessly set it up and take it down without the need for tools, providing the flexibility to train both indoors and outdoors.
Unparalleled Durability: Built to last, this golf net is constructed with high-quality materials that can withstand powerful shots. Its exceptional durability ensures long-term reliability and performance, even during intense practice sessions.
Easy Assembly and Storage: Setting up the golf net is a breeze with its user-friendly push-button assembly process. When you've finished practicing, the net conveniently folds down, allowing for compact storage in the provided duffle bag. This feature proves especially advantageous if you have limited space available.
Multi-Sport Capability: In addition to golf, this net is suitable for a range of other sports such as baseball, softball, soccer, and lacrosse. Its versatile design eliminates the need for multiple nets, offering a cost-effective and convenient solution for multi-sport practice.
Important Note: Your Home Pro Package will be delivered in three separate boxes:
Box 1: Contains the Home Series V2 Net and Aluminum Frame.
Box 2: Includes the Home Series Side Barriers (Pair) and four Sandbags (Sand not included).
Box 3: Consists of Poly Wrapped Turf, providing an optimal hitting surface.
Unlock the potential of your golf practice sessions with the Net Return Home Series V2 and enjoy the benefits of its innovative features.
Please Note –Dear NON-EU customer. Please note that you are buying tax-free on our website. You will have to pay your import taxes and customs duties when the package arrives in your country of residence.
Description
Home Series Package V2.
The Net Return Home Series is the golf net in the world like a few others that automatically return the ball back to the golfer.
The Home Series Package V2 provides you with the following components:
Home Series V2 Sport Net and Frame: This package includes a black powder-coated aluminum frame along with the Home Series V2 Sport Net. The net is specifically designed for home use and offers a durable and reliable setup for your golf practice.
Side Barriers (Pair): The package also includes a pair of side barriers that help in containing any stray shots within the practice area. These barriers enhance safety and ensure that your practice sessions are controlled and focused.
Turf/Hitting Mat: Various sizes of turf or hitting mats are available to complement your practice setup. These mats provide a realistic feel and surface for hitting shots, simulating the experience of playing on a golf course.
Rubber Tee's: Two rubber tee's with different heights are included (4.45cm and 5.71cm) to accommodate different preferences and types of shots during your practice sessions.
Sandbags: To ensure stability and secure setup, the package includes four sandbags. These sandbags can be filled with sand and placed strategically to anchor the net and frame securely to the ground.
Duffle Bag: For convenient storage and transport, a duffle bag is provided with the package. This allows you to easily pack and carry all the components of the Home Series V2 for use wherever you desire.
Net Specifications:
Height: 2.1m
Width: 2.1m
Depth: 1.09m
Weight: 11.7 kgs
With the Home Series Package V2, you'll have everything you need to set up your golf practice area at home, ensuring a convenient and effective training experience.