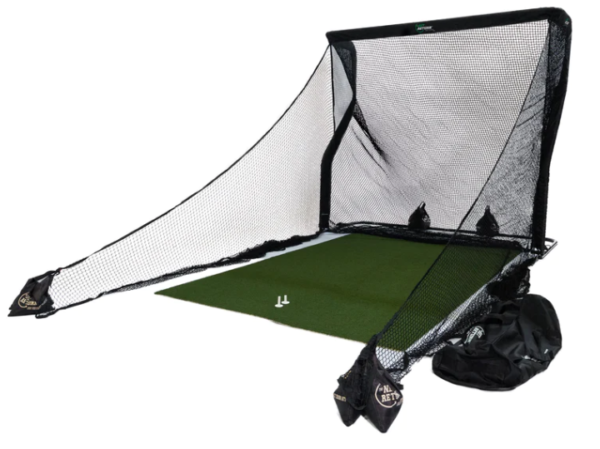 €1.015,66
The Net Return Home Series V2 is one of the only golf net in the world that automatically returns the ball back to the golfer.
Practice Golf Net: Our 7′ x 7′ Home Series V2 multi-sport golf net is perfect for practicing golf at home, in your yard, or in the garage. It offers the flexibility to practice whenever and wherever you want. With its portable design, you can easily set it up and take it down without any tools, making it convenient for both indoor and outdoor golf training.
Exceptional Durability: This golf net is built to last, crafted with high-quality materials that can withstand powerful shots. Its durability ensures long-term reliability and performance, even with intense practice sessions.
Easy Assembly and Storage: Setting up the golf net is a breeze with its simple push-button assembly process. When you're done practicing, the net conveniently folds down for compact storage in the included duffle bag. This feature is especially useful if you have limited space.
Multi-Sport Capability: Not only is this net perfect for golf, but it can also be used for various other sports like baseball, softball, soccer, and lacrosse. Its versatile design eliminates the need for multiple nets, making it a cost-effective and convenient choice for multi-sport practice..
Please Note – You will receive three boxes from us for your Home Pro Package.
Box 1 – Home Series V2 Net and Aluminum Frame
Box 2 – Home Series Side Barriers (Pair) 4 Sandbags (Sand Not Included)
Box 3 – Turf (Poly Wrapped).
Please Note –Dear NON-EU customer. Please note that you are buying tax-free on our website. You will have to pay your import taxes and customs duties when the package arrives in your country of residence.
Description
The Home Series Package V2 Includes the Following:
Home Series V2 Sport Net and Frame (Black Powder Coated Aluminum)
Side Barriers (Pair)
Turf / Hitting Mat – Various sizes available
Two Rubber Tee's – 4.45cm and 5.71cm
Sandbags (Quantity 4)
Duffle Bag
Net Specifications
Height: 2.1m
Width: 2.1m
Depth: 1.09m
Weight: 11.7 kgs