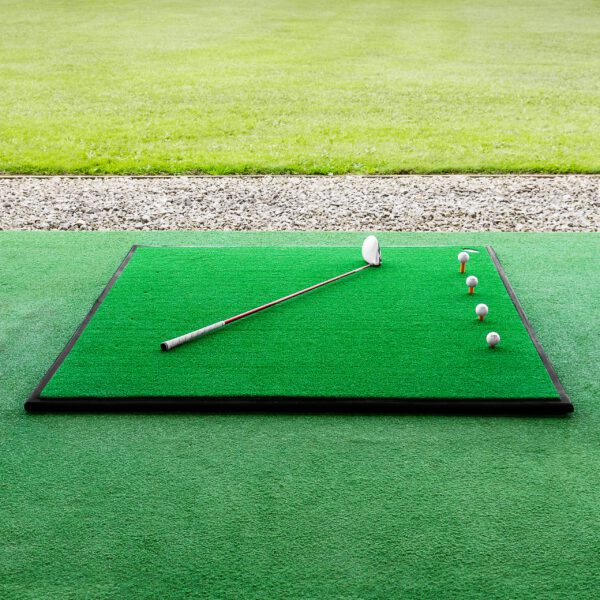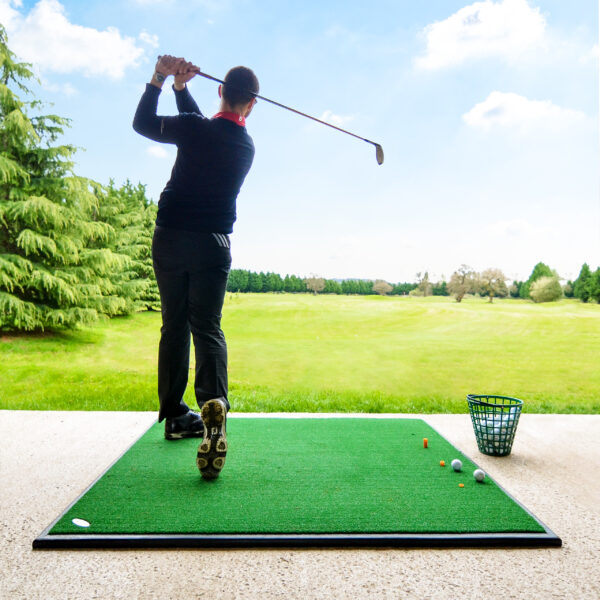 €320,00
Ideaal voor golfclubs en driving ranges, de professionele driving range oefenmat biedt topprestaties onder alle omstandigheden. Mat is voorzien van 30 mm kunstgras om professionele fairway-omstandigheden te creëren. Rubberen basis en/of golfballenbak beschikbaar als optionele extra's.
Please Note –Dear NON-EU customer. Please note that you are buying tax-free on our website. You will have to pay your import taxes and customs duties when the package arrives in your country of residence.
Description
GOLF HITTING MAT – DRIVING RANGE MAT VOOR OPTIMALE OMSTANDIGHEDEN
Een uitstekende keuze voor golfclubs en driving ranges, de professionele Golf Hitting Mat stelt spelers in staat om bij elke slag perfecte speelomstandigheden te ervaren. Deze oefenmat voor de driving range is vakkundig ontworpen om realistische fairway-eigenschappen na te bootsen en beschermt ook je echte grasmat tegen divots en geeft je baan een langere levensduur. Deze oefengolfslagmat is uitsluitend vervaardigd met behulp van de meest hoogwaardige materialen die beschikbaar zijn en kan in alle weersomstandigheden een topprestatie leveren. Voor het ultieme golfmattenpakket kunt u als optionele extra's een antislip rubberen basis en/of een golfballenbak aan uw pakket toevoegen. Erkend door mensen op het hoogste niveau, zei top 100 PGA Tour Golf Coaching Professional Jason Davies: "Dit is een golfmat van geweldige kwaliteit, het voelt als een strakke grasmat, dus het reageert alsof je van een echt mooie fairway komt . Het is zacht, de club glijdt er doorheen, het is een fantastische ondergrond om mee af te slaan. Het is bijna alsof je op echt gras speelt, zo dichtbij is deze mat.".
Driving Range Golf Oefenmat – Creëer professionele fairway slagomstandigheden
De golfslagmat meet 5ft x 5ft om golfers uitstekende ruimte te geven voor volledige swingbewegingen
Oppervlak is voorzien van 30 mm kunstgras om de fairway-eigenschappen na te bootsen (inclusief tees)
Driving Range Mat is 100% weerbestendig en levert het hele jaar door topprestaties
OPTIONELE EXTRA'S: Heavy-duty rubberen basis (antislip) en/of rubberen houder voor golfballen
SPECIFICATIES:
DRIVING RANGE GOLF PRACTICE MAT SPECIFICATIES
DIMENSIES:
Golf Hitting Mat: 5ft x 5ft | 1.5m x 1.5m
Golf Hitting Mat Thickness: 30mm (without rubber base)
Rubber Base (OPTIONAL): 5.1ft x 5.1ft | 1.6m x 1.6m
Golf Ball Holder Tray (OPTIONAL): 4ft x 1ft x 0.3ft | 1.2m x 0.3m x 0.1m
MATERIALEN:
Golfmat: 30 mm kunstgras – zal de fairway-eigenschappen nabootsen
Golf Tees (meegeleverd): premium rubber
Basis (OPTIONEEL): robuust rubber (antislip) met gaten voor waterafvoer
Golfballenbak (OPTIONEEL): ultra duurzaam rubber
DIVERSEN:
Driving Range Mat is 100% weerbestendig en geschikt voor gebruik het hele jaar door (binnen en buiten)
Antislip rubberen basis en houder voor golfballade beschikbaar als OPTIONELE EXTRA'S (selecteer hierboven)